Last Updated on: December 3rd, 2017
My short story, Firs and Angels, was the winner of the December 2013's Short Story competition I entered via LinkedIn! Today I'll share it with you, too. 🙂 Soon it will be a part of Aspiring Writers Short Story Competition Anthology 2014, which will be sold on Amazon.
Each month a short story contest is open to group participants. The Group I belong to is 810 members strong (as of this writing) and is called Aspiring Writers Short Story Competitions and Discussions. It is a subgroup of Aspiring Writers, to which I also belong.
In mid-January, I made sure to check the weekly notifications from this group. I was shocked and surprised to see that my short story submission won! Thanks, Ronnie Dauber, for choosing me! I particularly liked how you mentioned that it was "obviously edited for grammar and spelling errors," too! This proves that I made a good choice to offer my editing services to others. 😉
Short Story to be part of Anthology
The really wonderful news is that my short story will be included in an anthology!
Hooray!
This reminds me of my other recent announcement of having a True Tale of mine included in an anthology!
For this, one, however, here is what was told to me in the group:
"All first, second and third place winners will have their stories included in "The Aspiring Writers Short Story Competition" yearly anthology published in soft cover and e-book format, and will be available at Amazon.com, Lebrary.com and Smashwords."
Update: The Anthology Has Been Published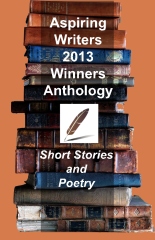 The Aspiring Writers 2013 Anthology is available now from Amazon and CreateSpace.
Firs and Angels: A Short Story
Since I retain all rights to this original work, which was written in accordance with the rules, I'm able to share my short story with you.
The rules for this particular short story competition are included below, in addition to the fact that the story was supposed to be about cutting down a Christmas tree. For each short story competition, a specific prompt is provided, to ensure that the stories are newly-written and original. For those of you who know what flash fiction is, you'll understand this concept. For those who don't, I think you get the idea of it now. 😉
The short story rules are as follows:
Please READ the competition guidelines carefully.
*NEW! Each story should be edited and checked for spelling and grammar errors.
*Each submission is to be a minimum of 600 and a maximum of 715 words, not including the title.
*Only ONE entry per person per competition.
*Once the story is submitted, it cannot be edited or re-submitted.
*Each story must be the writer's original and cannot be part of another story or novel.
*The entries cannot be published anywhere else before or during the term of the competition.
*Each entry must include a title and a word count.
*Stories must be void of profanity and erotica.
*Stories must be in "story" format and not in "poetry" format.
*Any story submitted after the deadline will not be accepted. Watch for my posting that says, "Competition closed".
*All stories remain the property of the author.

Each story will be judged on the following criteria:

Enjoyment (it must be easy to read, easy to understand)
Format (it should contain appropriate conflicts, and all conflicts must have an ending)
Appeal (the story must be interesting and must meet the expectations of the title)
Adherence to genre, theme, and highlight.
Here is my story. I'll let you decide for yourself if it was worthy of winning. I think it was, because I followed the rules explicitly. But is my story engaging? Do you think I have what it takes to make it as a writer? Are you looking forward to a book of short stories from me? (I've finally finished editing my book and am going to be releasing it soon.) Drop me a line in the comments and share your thoughts when you're done.
Firs and Angels – An original short story by Lorraine Reguly
"Hurry up, Daniel! We're all set to go!" Six-foot Tim Whitaker boomed from the bottom of the stairwell. Upstairs, his teenage son was changing his clothes. Ten-year-old Marc was already dressed in his blue parka and ready to go. Marc held a weighty axe proudly in his hands. He was looking forward to finally being "one of the guys" who participated in bringing home the Christmas tree for Mom.
"Coming, Dad!" Daniel quickly donned a wool-knit sweater and took the stairs two at a time on his way down. When he reached the bottom of the stairs, he nudged Marc's shoulders.
"You all set, big guy?" Daniel asked, smiling.
"You bet!" Marc replied enthusiastically.
"Okay, guys, let's go!" Tim opened the door, leading the three Whitaker males down the sidewalk to his red truck. Large, fluffy flakes of snow had been falling since four o-clock and Marc resisted the urge to make a snow angel. Maybe he'd make one later. His entrance into manhood was much more important.
"I'm going to have to take that axe from you, Marc, while we drive to Shep's farm. But you can have it back as soon as we get there," he assured his son. He placed the axe in the back of the truck, then reminded everyone to buckle up.
Twenty minutes later, they arrived at the farmstead. It was nearly dusk, and Shep had already turned on the colored, decorative lights. The fence surrounding the lot of firs blinked brightly.
After Tim put his four-by-four in park, the Whitaker males disembarked and Marc eagerly accepted the axe once again. His heart was pounding. This was it! He'd waited a long time for this day, and now that it was finally here, he was nervous.
Shep noticed his new arrival of customers and walked over to them. "Welcome! Grab an axe and pick any tree you like!" He noticed Marc's hands. "Oh, I see you've brought your own. Are you going to be able to handle that, son?"
Marc looked up at Shep. "I hope so, sir," he replied. "This year I get to cut down our Christmas tree." Pride laced his young voice, causing him to stand a bit taller.
"Yeah, it's tradition in our family," Daniel chimed in. "Marc's reached the magical age to start helping out more with manly work."
Tim Whitaker added, "We always cut down our tree on the eighteenth of December, too. I cut my first one down when I was ten, as did Danny, six years ago." He ruffled Daniel's hair as he spoke.
"Izzat so?" Shep chuckled. "Well then, I guess I'll leave you to it!" He winked at Marc before turning to greet yet another set of customers.
"Okay, guys, do you see one you like?" Tim asked. Daniel remained silent, letting his little brother step up to the plate.
Looking through the falling snow, Marc scanned the trees until he spied a full, lush fir about twenty yards away that caught the snowflakes and held them on its branches in a pattern that was just right. "That one!" he cried.
Grabbing one of Shep's axes, Tim elbowed Daniel who did so, too.
As the three looked at the chosen tree, Daniel demonstrated, "Hold your axe like this, Marc. Then, when you swing, remember to keep hitting the same spot every time."
"Pick a low spot, aim, and swing hard," Tim reminded.
Marc did. The first hit barely made a dent.
"Harder!"
The second, third and fourth ones connected perfectly, as did the next twenty. Exhausted and breathing heavy, Marc finally asked for help.
Tim obliged, swinging his axe and taking turns with Daniel until a triangular shape had been carved into the trunk. "Finish it off, now, Marc."
Marc spend another half-hour swinging the axe with all of his might. Finally he heard, "This is it!" from his dad. The third swing later, the tree disconnected itself and fell with a thud. To Marc, it was the most beautiful sound in the world.
The three hauled the tree to the truck after paying Shep.
"Good work, Marc!" Tim praised his young son.
"Yeah, good job, l'il buddy," added Daniel.
Marc beamed. He was definitely making a snow angel later in celebration.
YOUR TURN:
What did you think? Did you like it or hate it? Be critical and honest, please; I can take it. 🙂
BUY THE BOOK!
The Aspiring Writers 2013 Anthology is available now from Amazon and CreateSpace.