Last Updated on: May 26th, 2021
I went from a suicidal mess to a success and now I am listed as one of the 25 Successful Copywriting Experts You Should Know.
Portfolio Contents
There are two components to this portfolio: writing samples (listed below) and client testimonials.
As a freelance blogger, I've written a lot of web content. I cannot list my ghostwritten articles here, for obvious reasons, but most of my work include bylines. See the list of guest posts below!
As a freelance editor, I've edited various works for different clients. (See my client testimonials.) I'm a highly-sought after editor now!
and many more!
Below is a list of some of my best posts on the web, which you can peruse at your convenience.
In fact, here is a list of what you will find on this page:
A Portfolio of My Guest Posts
Contributions to Round-Up Posts
Interview Posts and Author-Related Posts
Appearances and Podcasts
– 2017
– 2018
– 2019
Magazine Contributions
Public Appearances
Request an Appearance
What I Can Do For You
A Portfolio of
My Guest Posts:
(the most recent ones are listed first)
How to Become Strong and Move On August 3, 2018. Your Positive Oasis
How Blogging Can Lead You to 6 Money-making Opportunities August 1, 2018. Enstine Muki
4 Techie Tips from a Non-Techie Blogger (TRUE STORY) February 22, 2018. Tricky Enough
How to Diversify Yourself as a Freelancer and Earn More February 6, 2018. Be A Freelance Writer
12 Ways to Deal with Failure February 5, 2018. CEO Hangout
Improve Your Blog Posts by Using These 8 Writing Tips February 3, 2018. Tech Tricks World
How Being Raped Led this Woman to Success: The Story of Lorraine Reguly January 18, 2018. Pink Vigor
My Journey To Sanity After Being Raped October 25, 2017. World Writers Hub
Blogging Step-by-Step Blueprint for How to Find Earning and Ranking Opportunities from Blogging May 29, 2017. Enstine Muki
What Do You Do When Your Family Does Not Support You Emotionally? May 29, 2017. Awazie Ikechi: Be A Light to the World
12 Reasons for why You Need to Take Your Dream Vacation NOW May 4, 2017. Blogging From Paradise
21 Of The Best Phone Apps For Bloggers June 23, 2016. Income Diary
A True Story of a Computer Scam and How to Avoid It Happening to You March 21, 2016. The Wonder of Tech
How to Land Guest Posts on High-Traffic Sites: An Interview with Wording Well Founder Lorraine Reguly December 12, 2016. Be A Freelance Writer
15 Tips for Effectively Managing YOUR Precious Time – December 31, 2015. Kikolani
3 Ways for Becoming a More Productive Writer – September 29, 2015. Kikolani
Why Blogging can be a Ridiculous Waste of Time  – August 25, 2015. Kikolani
2 Incredibly Innovative Ways to Draft a Spectacular Blog Post August 12, 2015. Problogger
7 Signs You're Pregnant and Don't Know It March 27, 2015. Baby Gaga
My Love-Hate-Love-Love-Love Relationship with the Techno Life and Writing March 24, 2015. When Women Inspire
4 Reasons Why All Leaders Need To Practice Self-Reflection March 21, 2015. Joe Lalonde
Rape, Drugs and Prostitution — One Blogger's Journey to Success March 18, 2015. Sylviane Nuccio
Confessions of a Freelance Writer: Interview With Lorraine Reguly February 12, 2015. Innovative Ink
16 Benefits of Being Blind — Number 14 is Hilarious! January  5, 2015. The Blind Blogger
8 Action Tips For Guppy-Bloggers In An Ocean Of Sharks  September 25, 2014. Aha!NOW
Meet Guest Author Lorraine Reguly August 18, 2014. Chris The Story Reading Ape
The Good and the Bad of Being a First-Time Self-Published Author August 3, 2014. Indies Unlimited
How to Take a Summer Break from Blogging (without Feeling Guilty) July 21, 2014. Dear Blogger
How to Cope With Massive Amounts of Email Notifications June 30, 2014. Dear Blogger
Two Simple Things You Can Do to Kick-start your Writing Success June 11, 2014. Be A Freelance Writer
All About PAGE JUMPS May 27, 2014. Dear Blogger
Springtime Computer Clean-up: Closing Tabs and De-Cluttering Bookmarks April 14, 2014. Dear Blogger
What No One Tells You About Moving Websites March 10, 2014. Dear Blogger
Want Your Own (Hosted) Website? Consider These Factors! February 17, 2014. Dear Blogger
Can You "Pause" Your Blog? 7 Solutions for Coping with Unexpected Sickness January 20, 2014. Dear Blogger
Coping With Unexpected Emotions When Writing Painful Memoirs January 18, 2014. Wrote by Rote
Are You a Successful Freelance Writer? 6 Ways to Tell January 9, 2014. Make A Living Writing
Overcome Writing Failure With a Personalized Writing Plan December 4, 2013. The Book Designer (listed on Publishers Weekly as one of the 6 Great Blogs for Indie Authors!]
A Checklist (and the Woman Behind it) that Toppled Dear Blogger November 5, 2013. Dear Blogger
How to Help Readers "Get" Your Blog Posts November 4, 2013. Mad Lemmings
Reaching Out To Others: You Have Nothing To Lose & Everything To Gain July 20, 2013. Joseph Lalonde 
More guest posts will be added soon!
Contributions to Round-Up Posts:
I've been invited to participate in several expert round-up posts, from 2014 to the present. Some links have been removed (in the cases where the website has been taken down or the domain was not renewed):
Because I'm also known for my blogging prowess, I'm listed as one of the 42 Bloggers You Want to Meet.
In addition, I was featured in The Best Copywriting and Writer Blogs to Follow.
I've also been featured in a post that will teach you a lot about me: Let Multi-Gifted Lorraine Reguly Help YOU in 4 Different Ways!
I was also quoted in 9 Genius Marketing Tools and Features for Moneymaking Websites and in The ROI of Guest Posting.
Interview Posts and Author-Related Posts:
I've participated in many interviews, too. That is because I am also an author!
See my interview on Zac Johnson's site: Blogging Tips.
How to Land Guest Posts on High-Traffic Sites: An Interview with Wording Well Founder Lorraine Reguly offers VALUABLE ADVICE to bloggers!
Confessions of a Freelance Writer: Interview With Lorraine Reguly is another, in the freelancing niche.
My city's library site also posted An Interview with Lorraine Reguly, in the writing niche.
I've written other guest posts that are not listed in this portfolio but are on Laying It Out There (my author site). To see more places where I've appeared online, please check out my portfolio via my Appearances page on that site!
You can read my Smashwords Interview, too!
In Feb. 2020, I was the second person to be interviewed in "The Experts Interview Series on The Blog Incubator." I hope you enjoy the Interview with Freelancer and Entrepreneur Lorraine Reguly.
Appearances and Podcasts:
2017
In October 2017, I did a podcast with Carol Graham called When You Just Want the Pain to End.
In December 2017, I was on  The Douglas Coleman Show. If you are an entrepreneur and want to write a book, the conversation I had with Douglas Coleman will definitely benefit you! Our podcast starts at 29:54.
2018
In January 2018, Monna Ellithorpe interviewed me: Meet The Author With Lorraine Reguly. I was also featured on the My Future Business Show Podcast with Rick Nuske. And I was interviewed for Trainer Hangout: Lorraine Reguly on Overcoming Failures.
In February 2018, I did three podcasts. First I spoke with Henry Kaminski on The Brand Doctor Podcast. Then I talked with Maxwell Ivey, on his podcast. Watch and listen to What's Your Excuse? with guest Lorraine Reguly here. Then I had a chat with Jess Dewell from The Voice of Bold Business. We talked about The Importance of Transparency in Relationships (P139).
In March 2018, I was a guest on The Curvy Life podcast, hosted by the talented Suzie Carr. She made a teaser video, which she posted on YouTube. The podcast is titled From the Edge of Suicide to Unstoppable: A Blogger's Triumph.
In April 2018, I was on Live Your Fuel with Scott Mulvaney. Listen to the podcast A Story of Overcoming Suicide or watch the video on YouTube.
In May 2018, I was featured in a special interview on Traffic Crow. Read the Interview With Lorraine Reguly From Wording Well.
In June 2018, I did a podcast with Louise Armstrong. Listen to The Secret to Happiness
from Let's Talk Relationships and Life.
In July 2018, I did a podcast with Brian King. Find it on YouTube, called STIMGA FREE ZONE: Premiere with Lorraine Reguly. I was also featured on BloggerMeet: Interview with Lorraine Reguly of Wording Well. Then I did a podcast with James Snow from LegacyCast, which you can listen to on Youtube, iTunes, Spotify, or Podbean. You can also download the mp3.
I also did a podcast with Diana Todd-Banks from Mature Preneurs Talk. You can find this podcast everywhere! It's on her website, on TuneIn, on PlayerFM, and on iTunes.
In August 2018, I spoke to Heather Vickery and Marilyn Shannon about being on their shows. Heather hosts a podcast called The Brave Files Podcast, and Marilyn hosts an online TV show. I am not sure I want to pay to be on Marilyn's show, so that has not happened yet. I'm scheduled for sometime in 2019 for my podcast with Heather.
In September 2018, I appeared on SoulSpark, an online live radio show. You can listen to a recording of it on Spreaker. I also appeared on the Online Success Journey podcast with Patience Nyesigire, also available on iTunes. And I appeared on Josh Cary's podcast, The Hidden Entrepreneur, in THE14: Go From Nope to Hope and Change Your Negative Thoughts into Positive Ones.
In October 2018, I appeared on SoulSpark radio again, discussing different things from my September 2018 appearance. You can listen to this podcast on Spreaker.
In November 2018, I was a guest on Donnie Boivin's Success Champions podcast. You can listen to Episode 137: Lorraine Reguly Shares Her Story of Tragedy To Redemption and Happiness via iTunes.
In December 2018, I appeared on the WIME (World In My Ears) podcast/radio show.
2019 
January 2019 kicked off the year with an appearance in 54 Bloggers Shared Their New Year Resolutions For 2019. I also appeared on the YES…And… podcast with Jennifer Whitacre Gardner.
In February 2019, I did a podcast with Nicholas Frazier. We talked about how I overcame my drug addiction (and a ton of other things). You can listen to it here.
In March 2019, I set up some more podcasts, took care of my health (I attended many doctor's appointments, bloodwork appointments, and went for more tests), and celebrated my son's 29th birthday!
In April 2019, I was on Eric Alders' Life's Black Belts podcast. We had an amazing talk and he even helped me to gain a few insights into myself. It was incredible. You can listen to the podcast right here, or on iTunes, or watch the YouTube video of us. I was also on Munira's Musings podcast. You can watch the unedited version via our Facebook Live video or you can view it on YouTube.
In May 2019, I was on Chris Burns' podcast, Becoming Your Greatest Possible Self. You can listen to Episode 475, How to Become Happier Even When All Odds Are Against You with Lorraine Reguly, via his website or watch/listen to it on YouTube. I also did a podcast with Michael from Get a Grip on Life. It was an intense podcast interview and I shared a lot of personal information about being raped in it. I broke down and cried when I was asked so many direct questions about that night. Listen to EP36 – SURVIVOR, AUTHOR, ENTREPRENEUR – LORRAINE REGULY.
In June 2019, I was on Brendan Cutuii's podcast called Mental Insights. You can listen to Episode #21: Trauma, Awareness & Self Help on Apple Podcasts, on Spreaker, or watch it on YouTube.
In July 2019, I was featured on The Quiet Type website. Katie, the owner, interviewed me. Read the interview here. I also recorded a podcast with Altovise Pelzer via a Facebook Live. Listen/watch From Nope to Hope… Overcoming Life's Circumstances via the SpeakEasy Podcast on Facebook.
In September 2019, I appeared on Brett Dupree's Joyous Expansion podcast. Listen to it on the Joyous Expansion website and check out the one minute of motivation here. I was also a guest on the Hero Podcast with Richard Matthews. Listen to the podcast on iTunes, Richard's website, or on YouTube.
In October 2019, I recorded a podcast that won't be out for a while. I'll keep you updated!
In November 2019, I appeared on The Authors Unite Show with Tyler Wagner.
In December 2019, I appeared on My Independence Report with Kevin MacDonald.
2020
In January 2020, I appeared on Angelica Vallecillo's podcast, A Little Bit Of Everything With Me!
In February 2020, I appeared on the Mindset in Motion podcast with Shona Hirons. I also appeared on Inspirational Journeys podcast with Ann Harrison-Barnes. Listen in on our conversation as we talk about my writing journey, writing inspirations, creativity, authorship, and how visually impaired people are inspirations to me. I specifically mentioned Maxwell Ivey Jr. and Kerry Kijewski… a lot! Ann even featured me in a blog post!
In March 2020, I appeared on Judith Germain's podcast called The Mindful Maverick. I shared my strategies of how I went from a suicidal mess to a success… building a business around my passion of working with words and helping others become authors! Listen to our awesome conversation!
In April 2020, I appeared on Chriselda Barretto's podcast, The 3 Pillars. Listen to our conversation via her website, on YouTube, on Spotify, on iTunes, on Stitcher, on Castbox, on Podtail, on Blubrry, on The Podcast App, or on Listen Notes.
In May 2020, I decided to change my focus and stop appearing on so many podcasts.
In June 2020, one of the last podcasts I did was published. I spoke with Joanne Victoria from the Sanity Project Podcast. Check out our conversation on YouTube, on iHeartRadio, and on Apple Podcasts.
In July and August, I recorded a couple of podcasts. They will be released later!
In September, I appeared on IBM.TV, on a show called Mind Closet 101. The recording of the show I was on can be found on YouTube.
In October, I appeared on IBM.TV again, for a "Part 2" edition of the one I did the previous month. The recording of the show I was on can be found on YouTube. I also appeared on a poetry podcast, the Spoken Word Poetry Podcast as part of the Meet the Author Series. You can listen to my talk with Ariana R. Cherry (and four of my poems) via this link.
In November 2020, I appeared on Dean Grimshawe's Work in Progress podcast. You can check it out on his website or on YouTube.
December 2020 was a month I took off!
2021
In January 2021, I appeared on The Way to the Top podcast with Letroy Woods. Listen to it on Anchor.fm.
In May 2021, I appeared on The Spotlight podcast with Gayle Nicholson. Check it out on YouTube.
Magazine Contributions
I was featured in the spring edition of Northwest Women!
I was actually invited to write an inspiring article about my life, to provide hope to women and to help other women overcome their own obstacles.
This magazine was included as an insert in my city's newspaper on Saturday, May 26th, 2018.
Public Appearances
I have spoken about overcoming suicidal thoughts (and my book, From Nope to Hope) at the Thunder Bay Waverly Resource Library (in June 2017). Another local author spoke during this event too.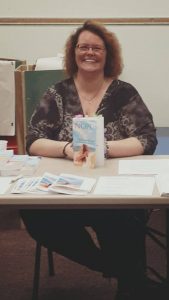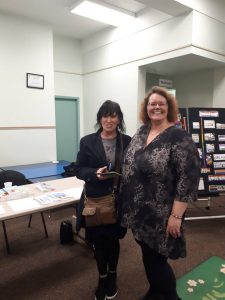 I've read poetry several times at The Creative Art Gallery in Thunder Bay, during their poetry nights.
I've also made a motivational video, which you can listen to here:
Request an Appearance
If you'd like me to appear on your site, in a podcast or post, or speak to me in some other capacity, please don't hesitate to contact me! 
What I Can Do For You
I can help you with your writing and/or editing needs, including
– web copy creation
– ghost-writing
– researching and writing blog posts
– proofreading and copy-editing your blog posts, articles, essays, short stories, e-books, novellas, or novels
– writing and/or editing brochures and menus,
– editing your own words
and
– basically with anything else that contains the written word!
Please contact me for a quote today! 
And if you want to be a guest on Wording Well, let me know! But read my Guest Posting Guidelines first!