Last Updated on: June 24th, 2021
Becoming an author can help your business in many ways.
The wonderful thing about today's digitally advanced world is that anyone can become an author. Yes, ANYONE.
If you're an entrepreneur or business owner, there are 3 reasons why you should consider publishing a book or an e-book (or both!). You will learn these 3 reasons in this article.
You will also see and hear proof of how becoming an author can help your business from 4 real people I know!
Plus, you will learn how to become an author within months, easily!
I will also outline the steps for how to write a book and give you additional information regarding printing and formatting your book.
You can even watch a video of the steps to becoming an author. (This is Video #2. I did a Facebook Live video about the contents of this article before this post was published. This LIVE is Video #1.)
And… you will see that becoming an author is easy if you have help (and patience) and follow these exact steps to becoming a self-published author on Amazon/KDP.
Video #1: Why Becoming an Author Can Help Your Business + How to Become One, Easily!
1: Becoming an author adds credibility (+ several other things)!
The first way that becoming an author can help your business is by adding more credibility to yourself as an expert in your business field—whatever field your entrepreneurial skills happen to lie in.
Becoming an author can help your business because adds prestige to your life and your business.
It also gives you bragging rights and allows you to truthfully say, "I am an author!"
Becoming an author can help your business in other ways, too. It can lead to other opportunities, such as creating more books, having book signings, and even creating courses based on your books, which will help you earn more money!
2: Becoming an author will help your business because you will earn extra passive income by selling your books and/or e-books!
There are three types of income: portfolio income, active income, and passive income.
Portfolio income is income from investments, dividends, interest, and capital gains.
Active income is generally defined as income earned from selling a service.
Passive income is defined as money you can earn on an ongoing basis that doesn't require any effort except for the initial work, such as rental income, affiliate income, or book/e-book royalties.
It's always nice to receive an email notification saying that a deposit has been made into your account! If you become an author, this will definitely help your business profits skyrocket!
3: If you don't publish a book, you are missing out on a huge market, so becoming an author will help your business reach new customers!
A lot of people are on Amazon as readers, not as consumers of your product or your services, but you can easily convert them to consumers if you publish and sell an e-book.
Why and how?
As a business owner, you are probably already on social media (Facebook, Twitter, LinkedIn, etc.) and you already have a bunch of people on your email list… so you are already reaching a ton of people. That's great, but you still aren't reaching the Amazon audience.
There are millions of people on Amazon who are readers. They like digesting stories and learning new information. (People buy books for many reasons.) If you don't have a book to sell on there, you're missing out!
If you publish a book that is based on something related to your business, then you can put it on Amazon and tap into that market. You can use your e-book as a funnel to take those readers from Amazon and funnel them to your website to your products, to your services, or to whatever it is that you're offering! How? Just include some hyperlinks in your e-book and entice readers to click on them!
Amazon will even help you make sales! If you've ever bought anything from Amazon, you already know that Amazon recommends certain products by saying, "People who bought this also bought…"
Clearly, Amazon is THE way to go if you want to earn some extra cash and tap into a new market! Becoming an author can help your business become more profitable!
Proof of How Becoming an Author Can Help Your Business: 4 Real-Life Examples!
I know a lot of people. At the last minute, before publishing this blog post, I decided to reach out to a few of the authors I know who have businesses. I asked them to send me a picture of them holding their books and to let me know how becoming an author has helped them with their businesses.
I will introduce you to these four people now. I have written a bio for each and have included their personal testimonial below that, in bold.
1: Tim Cooper
Tim Cooper is the founder of Wellness Business Breakthrough. He helps businesses go from the stress of struggling to make ends meet to enjoying the rewards that a successful business brings. Tim is also talented in the field of design. He has been designing and building sites for over 20 years and also freelances as a book cover designer in his spare time. View his book cover portfolio and check out his books on Amazon. You can also pick up a free copy of his Business Clarity Worksheets from his website and check out his coaching programs.
I'm a firm believer that every entrepreneur/business owner should write at least one book highlighting their product or service. Unlike a business card, people don't throw books away, so if you can invite someone into your network by sending them a signed print copy of your book, well, that's priceless! You need to understand that the money isn't in the book sales. The true value of the book is that it places you as an authority in your niche, which leads to sales of services and high-ticket items.
I'm planning to publish at least 3 more books in 2020. The first series consists of the following books:
– Success Strategies for Wellness Professionals: Achieve Your Goals And Beat Your Money Blocks (Book 1)
– Video & Online Marketing Strategies for Wellness Professionals: Unleash the Power of Video. Stand Out, Get Seen & Grow (Book 2)
– Networking & Local Marketing Strategies for Wellness Professionals: How to Build Valuable Business Relationships by Connecting With Your Community (Book 3)
As a result of becoming an author, I have been able to build my email list and sell my coaching programs.
2: Patrick Kirby
Patrick Kirby is the founder of Do Good Better Consulting and has spent nearly 15 years working in the non-profit industry. From organizing $10,000 cure walks to million-dollar galas, Patrick's passion lies in devising creative solutions to make fundraising less boring. He is launching the Do Good Better Podcast in February 2020, and claims he "totally wouldn't be able to do that without the book!" Get your copy of Fundraise Awesomer: A Practical Guide to Staying Sane While Doing Good on Amazon.
Writing and publishing a book was a great way to promote my brand, create a better awareness of my business and instantly gave credibility to an audience larger than my immediate circle of friends and colleagues. From media exposure to speaking opportunities and outstanding new professional connections, it has been a fantastic experience!
3: Dr. Robert Garcia, Ph.D.
Rob is commonly known online as the Warrior Strategist Rob is an enlisted Ph.D. with 20 years of military service. He helps business owners gain visibility and media with his Tactical CEQ program. He is also the founder of SHIFT magazine. Visit his website, Your Next Level of Success, and see what he can do for you and your business!
Rob is also the author of several books, including:
Teen Juggernaut (This is a dynamic, illustrated guide to a young person's life. Rob Garcia describes in rich detail the secrets of successful practices for teens interested in college, military or technical careers. This exciting, easy to read book contains many helpful links and the culmination of two years of research. The final chapter contains the ultimate prize: Access to Ivy League college-level material ABSOLUTELY FREE. If you have a teen in your life that needs guidance from an expert, TEEN JUGGERNAUT is the book to read.
Skinny Dragon Diet (The best diet book in America. Dr. Rob Garcia discusses his new plan that promotes aggressive weight loss while not ever being hungry. His diet is a bold, new approach to meal plans. Includes food combinations that provide energy and fat burning all day and recipes.)
Next Level (This exciting guide offers the reader ten methods for rapid advancement at any skill or career. Learn how Dr. Rob Garcia went from high school dropout to Ph.D. by learning certain learning fundamentals and habits.)
The Next Level: Supercharged (This is an exciting speed learning guide that can help the reader learn any job or skill in record time and teaches 16 methods of high-speed learning with real-life examples!)
Charter X (Charter X is a bold and innovative approach to educational design. In it, you will find a full guide to writing better assignments, getting girls involved in technical careers, maximizing student potential, and much more.)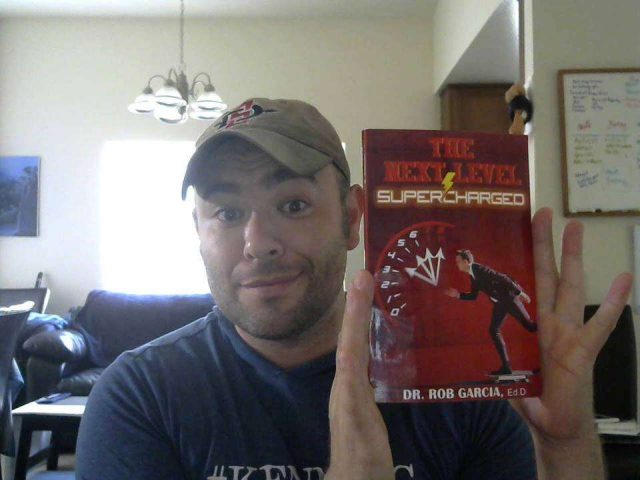 Writing a book helped me meet a TON of celebs (Team Hoyt, Dale Comstock of Delta Force, SEAL Team 6s Howard Wasdin, Pro Skater Frankie Hill, Jill Stanton of Screw the 9-5). Writing a book also got me on the local news!
4: Steven Kuhn
Steven Kuhn is a decorated U.S. Military combat veteran who has been hand-picked to consult with some of the most influential people in the world (rock stars, singers, actors, business leaders and politicians) about how to expand their brand, build value and loyalty, and develop strategies for increasing beneficial relationships and achieving true Quality of Life (QOL). Find him at QOL Enterprises.
Steven is a best-selling author and has a new book coming out this year with his partner and co-author, Lane Belone, (Special Forces Green Beret veteran). Steven has deep-rooted beliefs in building trust and rapport through a process he calls H.I.T. (Honesty, Integrity & Transparency). H.I.T. is the method which Steven developed and how he lives his life both professionally and personally. Steven teaches people how to achieve their own version of quality of life with the Humble Alpha Leader Program. Visit his website to learn more and check out his books on Amazon.
My first book, Served in the Gulf, from Soldier to Cynic, was a bestseller two weeks after it was released—the day the war started in Iraq in 2003. This led to over 100 TV appearances, even more book readings on a book tour, and positions in the media as a moderator and guest anchor. I was even on MTV. I still get interviewed, quoted, and asked to speak on the contents of this book!
The key was to hit the emotion of the times. If you do that, it will almost guarantee a bestseller. That's what happened with my second book, Why Europeans Eat What They Wish and Still Stay Thin and Healthy.
My third book is being published now. Along with my business partner, Lane Belone, we have crowned our life journey with the book and an accompanying program, Unleash Your Humble Alpha—Politics, Plant Medicine, Royalty, Military Combat—The Unconventional Journey to Profound Leadership. I am confident this book will break all previous records of mine.
A book must have a purpose, solve a problem, and address a specific issue, If it's a biography, it should hit the tide of the times, dead-on. In general, having written a book adds instant credibility to you as a business person. Writing is good for the soul, too. It can be therapeutic and cleanse you, especially if you are dealing with an emotional issue. At the very least, this is a great reason to write a book!
How to Become an Author WITHIN 3 MONTHS, Easily
Write a book or an e-book. (This takes the longest… weeks!)
Write a blurb/description. (This takes less than a day.)
Format your book files. (This takes less than a day.)
Get a cover made for it. (This takes a while, at least a week or two. You will need to work with a cover designer, and go through several revisions until you are happy with your cover.)
Create an account where you want to sell it, and upload them to that site. (This takes less than a day. It takes a few days to connect your bank account to KDP, however.)
Proof your print copy (if you are making your e-book available in print). (This can take you a while… unless you hire me.)
How to Write a Book
1: Decide what you are going to write about and why.
Figuring out your WHY will help you immensely, as it will give your book a purpose. Is your book's purpose to inform, to entertain, to chronicle your memoirs, or to simply share your experiences?
A lot of people have a hard time getting started because they are scared. They also get stuck because they don't know how to organize their thoughts or organize their ideas into chapters or they don't know how to actually get their ideas in their head to go from "idea" to "creation."
I recommend answering these questions:
Why do you want to write your book?
What is it that you have to share with others that others are going to want to hear about?
Once you have answered these, you will have the clarity you need, and the rest will flow naturally because the actual writing of the book is really all you have to do.
2: Organize your ideas.
A lot of people have a hard time getting started because they are scared. They also get stuck because they don't know how to organize their thoughts or organize their ideas into chapters or they don't know how to actually get their ideas in their head to go from "idea" to "creation."
To solve this problem, brainstorm all the key points you want to cover, and jot them down. Organize them into a coherent manner so that one idea will flow to the next. In doing this, your outline and/or Table of Contents will be created!
During your brainstorming session, write down all the different points that you want to include.
To brainstorm, there are different tools you can use, although using a pen and some paper is the easiest way. Or you can make notes on your computer. If you like tools such as mind maps, where one idea is connected to another and another (picture one big idea in the middle, with about ten or twenty branches sticking out of it), you can use each of those branches as a chapter of your book. Each sub-branch would be what you talk about in that chapter.
The writing of the book is not as difficult as you might think, especially with this type of "road map" to help you!
You can also create a main folder in your computer, and then create a bunch of sub-folders, which would be where you put each chapter. By doing this, you can work with your book more easily, instead of having one big document to navigate! By keeping it separated instead of being one whole messy file, you can also envision the overall book easily.
You will also have a sense of accomplishment after you finish writing your thoughts in each of those chapters! And, before you know it, you'll be finished writing your book!
3: Write your first draft.
Just write.
Write each chapter.
Don't worry about grammar. Don't worry about spelling. Don't worry about putting things into proper paragraphs. Just write what you want to share.
Your goal here is to just get your words out!
Editors are for the other stuff!
(When Max sent me his first chapter it was one long paragraph. That's all it was! It was just words he wrote, to get it all out. Then it was up to me to organize it into proper sentences and paragraphs with correct punctuation and spelling.)
4: Let it simmer.
Once your first draft is complete, leave your book alone for a while.
You need time away from it so you can approach it again with fresh eyes, to begin the self-editing process.
5: Start editing your book (and create your second draft).
The editing process will begin with yourself. You will look at what you've written and decide to change it or improve it. You will also check it for typos as you proofread it.
You can use 5 Self-Editing Hacks to Boost Your Blog Writing (+ a FREE Checklist!) to help you.
DOWNLOAD
CLICK HERE TO GET YOUR 17 BONUS TIPS!
6: Get feedback on it and then create your third draft, based on that feedback.
After your second draft has been created, you will want to know if what you've written is any good. At this point, you will ask your friends and colleagues to read it and give you some feedback (AKA constructive criticism). You can also ask others in whichever writing groups you belong to, groups on Facebook, or Google+ communities.
Then you'll use that feedback to create your third draft (AKA your final rough draft), making sure it's as perfect as it can be.
7: Get it edited by a qualified person.
Not everyone knows English well, but professional editors do!
Once your book is as good as you can make it, you should send it to a professional editor, who will polish it to perfection! Your editor will give you professional feedback, correct your grammar and punctuation, and make your sentences and paragraphs absolutely perfect. Your editor might also rearrange some sections (especially if it's a non-fiction book) so that your ideas flow coherently.
Editors are those people who will wave their magic wands and turn your book into a work of art—YOUR work of art!
An editor's job is to not rewrite your whole book for you; it is to take your words, your meaning, and what you want to say and convey to everyone else and put it in such a way so that it's presented properly with proper punctuation and grammar, formatted with the right amount of sentences in certain paragraphs and, as an overall picture, broken down into the correct chapters.
If you need an editor, you can hire me.
Once your book is perfect, it's almost ready to sell.
You still need to create a cover for it, format it, and write a blurb/description for it.
8: Create the cover.
You can create the cover yourself if you are graphic-savvy, or you could get someone to create it for you.
Because each site has its own cover specifications for size and file type, you need to make sure you know what you're doing. Most people don't, so they hire a cover designer who does. (I had to!)
I know a few really good designers who will work for extremely affordable prices and are good. (The guy who created my book cover for From Nope to Hope did a fantastic job! He even added a rainbow to it, upon my request!)
9: Format your book properly.
Format your book for the site to which you are submitting it for others to purchase it—Selz, Amazon/KDP, etc.
Every site has its own specific guidelines for formatting, so make sure you follow them. (You might have to hire an author assistant to help you do this part too.)
10: Add your front and back matter.
The front matter includes those things like the copyright symbol, the year in which you're publishing your book, the book's ISBN, and a few statements and/or disclaimers. A dedication, if you have one, will go towards the front of your book too. (Your editor will know what to include and where, and will help you will all this!)
The back matter includes an About the Author section, Acknowledgements, references (if you have any), and suggestions for the reader about what other books he/she should read (yours, or someone else's, if you have a Suggested Further Reader section). You can also include any contact information there, if you want to hear from your readers, or a preview/teaser of your next book!
Take any novel or book you have bought at a store. Look at the stuff it contains. Make your book look like that. Trust me, this is easy stuff.
By including all this information in your book, your book will look professional.
11: Create Your Accounts Carefully, Following the Law
Once you have all of your book files (text files and cover files), you need to create accounts on the sites where you want to sell your book. You might also want to purchase an ISBN for your book. (You can use the free ones assigned to you, too.) Check the laws of your country to see what you are obligated to do!
Of course, you will need to fill out your taxation information and bank information, so that you can get paid when you sell your book!
Then, once everything is done, you just simply upload your files to those sites. In some cases, you will have to wait 12-24 hours for your files to be approved. Once they are, your book is ready for others to buy!
12: After Your Book Has Been Published, Submit Your Book to Legal Deposit or LOC (Library of Congress)
In Canada, if you write a book or an e-book, the law states that you must submit a copy to Library and Archives Canada to help preserve your Canadian heritage. (The Library and Archives of Canada Act is a federal statute of Canada that legally empowers LAC to collect and preserve the nation's published heritage.)
E-books can be submitted by following the steps on their website.
Print books must be mailed to them and accompanied by a form For physical books, you have to print out a specific form (the appropriate form found on the Legal Deposit website that applies to your type of publication) and then ship it, along with your book, to the following address:
Legal Deposit
Library and Archives Canada
395 Wellington Street
Ottawa ON
Canada
K1A 0N4
Learn more about Legal Deposit.
In the United States, authors do not have to follow any specific laws (at least, I am not aware of any). However, they can submit their books to the Library of Congress (LOC), the research library that officially serves the United States Congress and is the de facto national library of the United States. They can also
To submit a book to the LOC, follow these instructions.
Additional Information: Printing and Formatting Your Digital Book
Print-on-demand companies such as KDP (Kindle Direct Publishing) can print copies of your book for a relatively low cost.
Your book files need to meet their formatting requirements, too.
For example, KDP requires that your text file is specifically formatted and that your cover be submitted as a printable PDF.
To create a printable PDF of your book cover for KDP:
Choose a size for your book.
Create your book's text file by formatting it according to KDP's submission guidelines so that you know how many pages your book will contain. You need this information so that you can calculate the dimensions of the spine of your book. Your cover designer needs this information, too.
Create your cover. (I use the services provided by Ravi Verma, AKA rdezines. He is awesome!)
Video #2: The Steps to Becoming an Author
Watch the video to see and hear the steps to becoming an author.
For more details of the steps involved in publishing a book or an e-book, read How to Become a Self-Published Author on Amazon/KDP.

A huge THANK YOU goes out to InVideo (affiliate link) for making this video for me! InVideo (normal link) is an SaaS platform that helps anyone transform their content into great videos. They help serve publishers, media companies, and brands to expand audience engagement through the power of video content.
Becoming an Author is Easy if You Have Help (and Patience)
Writing and publishing a book or an e-book might seem like a complicated process, but it's not. There are just a lot of steps that need to be taken.
I've been editing books for years, and now I help others through the self-publishing process, too. (I still do tons of editing!)
I have helped quite a few people publish their books on Amazon via KDP and also to Selz. I have also published a couple of books myself, and I'm not a technological person, so if I can do it, anyone can!
That's the wonderful thing about technology and the age that we're living in now—anyone can become an author! All you need to have is the desire to write a book and sell it!
I've been helping people throughout the various stages/steps since 2014 and it's really exciting to see an idea for a book actually come to fruition, to see someone's dream of becoming an author come true!
Do you want this to be you?
Becoming an author can help your business. There's no doubt about that.
Do you need some help? If so, let me help you!
********
By the way, most of this blog post has been turned into a presentation. Look!