My short story, Firs and Angels, was the winner of the December 2013's Short Story competition I entered via LinkedIn! Today I'll share it with you, too. 🙂 Soon it will be a part of Aspiring Writers Short Story Competition Anthology 2014, which will be sold on Amazon.
Each month a short story contest is open to group participants. The Group I belong to is 810 members strong (as of this writing) and is called Aspiring Writers Short Story Competitions and Discussions. It is a subgroup of Aspiring Writers, to which I also belong.
In mid-January, I made sure to check the weekly notifications from this group. I was shocked and surprised to see that my short story submission won! Thanks, Ronnie Dauber, for choosing me! I particularly liked how you mentioned that it was "obviously edited for grammar and spelling errors," too! This proves that I made a good choice to offer my editing services to others. 😉
Short Story to be part of Anthology
The really wonderful news is that my short story will be included in an anthology!
Hooray!
This reminds me of my other recent announcement of having a True Tale of mine included in an anthology!
For this, one, however, here is what was told to me in the group:
"All first, second and third place winners will have their stories included in "The Aspiring Writers Short Story Competition" yearly anthology published in soft cover and e-book format, and will be available at Amazon.com, Lebrary.com and Smashwords."
Update: The Anthology Has Been Published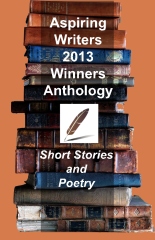 The Aspiring Writers 2013 Anthology is available now from Amazon and CreateSpace.
Firs and Angels: A Short Story
Since I retain all rights to this original work, which was written in accordance with the rules, I'm able to share my short story with you.
The rules for this particular short story competition are included below, in addition to the fact that the story was supposed to be about cutting down a Christmas tree. For each short story competition, a specific prompt is provided, to ensure that the stories are newly-written and original. For those of you who know what flash fiction is, you'll understand this concept. For those who don't, I think you get the idea of it now. 😉
The short story rules are as follows: