Are you as successful as you want to be?
Are you completely happy with your life?
Do you wish you could be happier or more successful?
Good news – you can!
All you have to do is change your mindset and success will be yours!
How do I know this? I'm living proof.
I used to be a prostitute, a high-school dropout, and a drug addict. But I also went to university for 5 years and became a high school Math and English teacher. Now I am a business owner, a freelance writer and editor, a coach and mentor, and an author!
In fact, the first two articles in this series are chapters from my book, From Nope to Hope.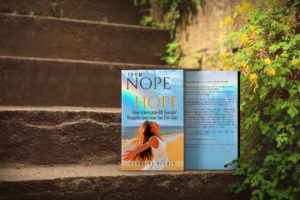 You can learn all about me by reading this poem about my life journey and you can learn all about my book by reading the book release of From Nope to Hope.
You can also dive right in and learn how to change your mindset and become more successful today!
3 Ways to Change Your Mindset
There are many ways you can change your mindset. The best 3 techniques involve:
1: Using positive affirmations 
2: Use Meditation, the Law of Attraction, and Visualization to Be Successful
3: Conquer your fears
Let's look at each of these ways in-depth now. I'll be sharing my personal experiences with each of these ways, too, to prove they work!
Because this is the 3rd post in a 3-part series, I'll simply recap the first two ways, and then get into today's topic of discussing how to conquer your fears.