Last Updated on: February 28th, 2015
Have you ever wondered if you chose the wrong profession, questioned your blogging motives, or conducted experiments or tests on your blog to see what works best?
How did they turn out? Did you achieve the results you had hoped for?
My Experiment for Growth
In playing around with my blog last year, I made the offer to authors (and writers everywhere), saying that I would be willing to promote them for the month of April, as an experiment to try to gain blog followers. At the time I had about 20, approximately. (Yes, and I mentioned that in the post. I'm nothing if not honest, remember?)
Well, back then, I didn't realize that April is the month of the A to Z Blogging Challenge. I was a new blogger; what did I know?
(Shh. I know NOW that I didn't know much about blogging then!)
As I read this year's challenge invite, I started thinking about how much my blog has grown since last April, despite my lack of participation in that Challenge. And while I did not sign this blog up this year, I did enter Poetry Perfected into it.
It's 463 on the list.
I think I have about a dozen readers over there right now, and that little blog of mine (which I neglect, I regret to admit) could definitely use some growth, as evidenced by my recent blog stats:
This is a pretty sad scenario, if you ask me. I feel so ashamed, looking at the sad state of affairs over there, but it's my own fault. I don't post regularly there, and look at writing poetry as a hobby, kind of like watching TV. I also don't promote it, talk much about it, or visit many other poetry blogs to build my "community" for it. I actually don't care that much about it anymore, and never really did.
This blog, however, is my baby, and I love it here. I almost don't want to move to my own site, but I think I should.
Why I'm Moving
This blog is growing fine all on its own. Then again, this is my main blog. (Not everyone likes poetry. Sometimes, even I don't!)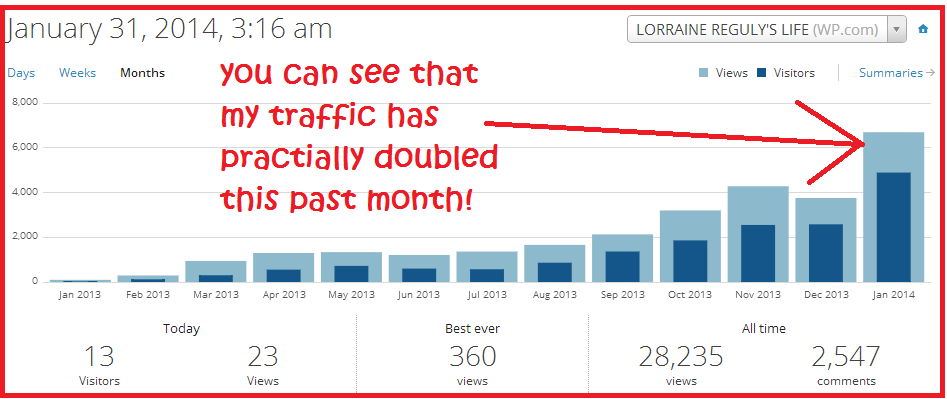 Of course, when I received my first Liebster award and posted the "Official Rules" on May 2, 2013, I had no idea how that one post would alter my blog's popularity or help me build PageRank. (I didn't even know what PageRank was, back then!)
I also didn't know that my posts on Google+ circles would bring me a lot of traffic (readers/visitors), either, but I felt that someone had to answer these questions.
. . . Not that I'm complaining! . . .
What I find interesting is how traffic can be so unpredictable.
Sometimes, in our minds, we believe we have written an awesome post, but then it flops, no one comments on it, no one reads it, and it gets forgotten, even though we may have worked hours and hours on it. Then there's the post that the little voice in your head said to write that performs wonderfully, even if you thought it wouldn't.
Am I the only person who has had this experience? I think not; we've all had our ups and downs, haven't we?
Growing by numbers
I also counted the number of visitors to this blog for the first four months of its existence:
January (27), February (119), March (301) and April (553) of 2013.
If you add up the numbers in brackets you can see that I had 1000 visitors in four months.
It is now February 7, and so far, I have had 1155 visitors this past week! 
Yes, it's definitely time for a move. 🙂
Are you going to join me on my new journey? I hope so!
I've found out some of the answers to my blogging questions, and I would like to explain that you will NOT be able to see my future posts, in your reader or otherwise, unless you subscribe to this blog VIA EMAIL. You do this by clicking the "YES! SIGN ME UP!" button in the top right corner of my sidebar.
If you cannot see this button, you have to "unfollow" this blog at the top in the top black bar where it says "Following/Like/Re-blog" and then hit the re-fresh button on your browser. (I am not sure what to do if you are on a phone!)
The reason you need to follow me via email using the widget in my sidebar is so that you can be "imported" with me when this blog moves. (Please don't ask me to explain this; I'm a non-techie and cannot explain how this transfer works); I just know what I've been repeatedly told and so I am passing this information on to you, because you are important to me and I want you to be a part of my new website!
I'm getting a new name, too!
I've put a lot of thought into this, and have been doing my research. I've used my survey feedback to plan the types of posts you all want to see, and I've even hired a designer to make me an image I can use on my new site! (You can still take this survey; there is no time limit on it, and I check regularly for more input from my readers.)
I'll be posting at least once more on this blog before it gets moved, to make things official and to give you the inside scoop about my new blog, but I'd appreciate it if you would take a moment to find the widget (top right hand of the sidebar, where it says: It's Your Choice!) to sign up via email.
You can always unsubscribe later on, once I've moved and you know where to find me. I won't mind!
Thanks for being a part of my online journey. It seems I'm here to stay. I'm not going away; I'm growing and I'm loving it, and I want you to come with me.
I've got great things planned for us.
Join me?
And of course, feel free to post a comment. You know I always reply to my comments.  But don't forget to subscribe via email. 😉 I'd hate for you to be left behind.