Last Updated on: January 29th, 2021
Think fast! Name five well-known fictional characters with disabilities. You cannot include Professor X.
You have one minute. Okay. Go.
Tick. Tick. Tick….
Time's up!
How did you do? Don't worry, if you couldn't get five in under a minute. There aren't very many to begin with.
Here's a new question:  Of the ones you named, how many of them rely on one of these clichés for the character development?
The tragic figure
The angry whiner
The overprotective or absentee "caregiver"
The former badass
"My disability is a superpower," "My disability is why I have this job," or "My superpower makes my disability better."
The desperate search for a cure
The problem with all of these scenarios is that they present disability as something that is always, unquestionably a tragedy.
The message is that any person with a disability must either fight against it, become a powerless victim, or become evil because of it. These stories aren't written to represent the experiences of people with disabilities; they are written to explore the fears of able-bodied authors who have trouble conceiving a disability as anything more than a horror that lurks in the back of their minds.
There are people who view their disability as a tragedy — especially if they acquired a disability later in life. Most people with disabilities don't think like that, and fiction writers are doing this community of diverse individuals a huge disservice by perpetuating stereotypes that play off of cultural fears about what it means to live with a disability.
There is a deeply rooted cultural bias that says any person whose body or mind functions differently from current norms is "special" or "less capable." Sometimes that means a person is marginalized because of a disability. Other times it means the person is idealized as an "inspirational figure."
It can be hard for able-bodied writers to get beyond the stereotypes, but writing is richer and stories are better when authors abandon cliches and purpose to write with authenticity about characters with diverse experiences and backgrounds.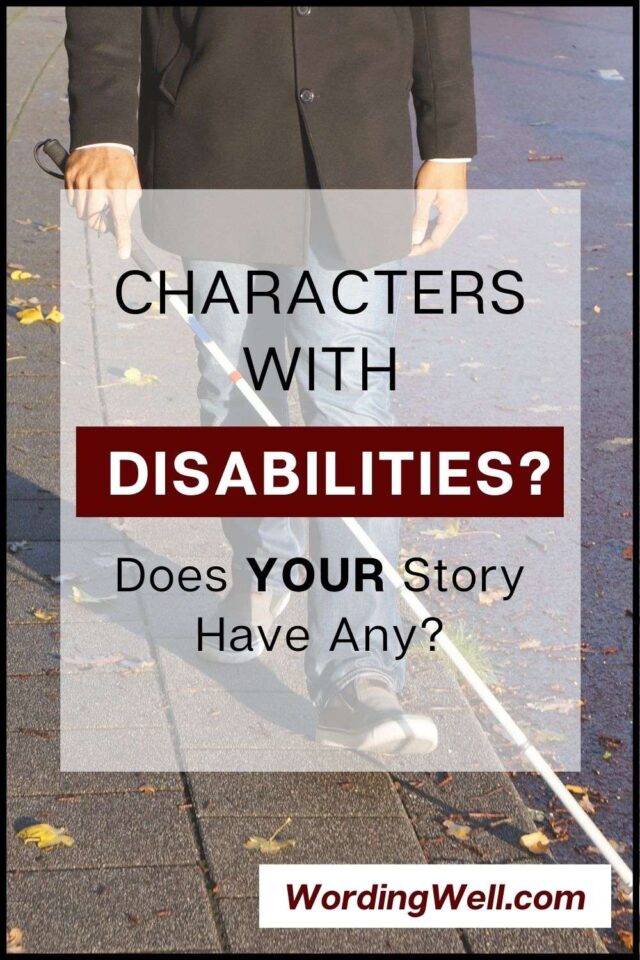 The best example I have of a compelling character who breaks disability stereotypes is Geordi Laforge from Star Trek: The Next Generation. Geordi is blind, and sometimes his blindness or the way his VISOR functions are relevant storylines of TNG, but Geordi's story-purpose is to be an engineer. His job is to make sure that the Enterprise runs properly, and he chose to go into engineering because he was interested in the field. He didn't choose engineering because it was an avenue open to a blind guy where other areas were closed or because he wanted to "break in" to a field where blind people weren't normally allowed. He's a talented engineer and capable scientist, but he's not the only person on board the Enterprise who can do his job.
For me, every story is different, but those are the principles that I try to follow when I write characters with disabilities. I think I might start calling them the Geordi Principles.
Disability should be relevant, but not a defining characteristic.
Disability can be a challenge, but it should not be "the problem" that moves your story.
Disability can also be an asset, but it should not be idealized or the "solution" to the problem.
Characters with disabilities can and should be able to work at the same jobs other characters can do. There is no need to create "unique" positions that ONLY the "special" person can do, unless you're writing a monomyth type hero who just happens to have a disability. The disability shouldn't be a superpower or the reason your character is fit for his/her job.
Please, avoid the overprotective and absentee family members who can't cope appropriately with a character's health issues or desire for independence. This is insulting both to people with disabilities and the families who view them as capable individuals who should be treated with respect and dignity.
Redefining Disability artwork (c) Rose B. Fischer.
Back in February, I got into a discussion about disability in the media and how there just doesn't seem to BE a whole lot. I'd like to change that, so I'm creating an interactive blog project. If you're a writer or story creator interested in authentic representation for people with disabilities, please check out Redefining Disability. We'll be taking a more in-depth look at the points in this post, hosting discussions on a variety of issues related to creating characters with disabilities, and providing feedback for authors who have story content to share.
I would like to thank Lorraine for hosting me here on Wording Well and helping spread the word about this project. I hope you'll check it out and join in the conversation.
---
Rose B. Fischer is an experienced blogger and author of speculative fiction who is currently developing an interactive project to promote awareness and media representation for people with disabilities. She also reviews books!