Last Updated on: January 26th, 2021
Wording Well was created in February 2014. Building it and getting it up and running took some time – and a bit of adjustment – but now I am happy that I made the decision to get my own site. I feel liberated!
However, a lot of thought was put into each and every decision I made when building Wording Well. I wanted it to be more than just a blog; I wanted it to be my brand. Plus, there are a lot of things that that no one tells you about moving websites and a lot of hosting factors to consider.
Create a name for your brand
When I made the decision to create a site, I first had to decide on a name. I originally wanted Writing Well, but it was already taken. 🙁 I then thought of
wellofwriting

scribingwell

inkingwell

typingwell

wordingwell
I consulted with a writer friend of mine to get her opinion, and, ultimately, Wording Well was what I opted to go with. Something about the name really appealed to me. Plus, it indicates that my niche is writing. 🙂 And that I perform this action well. 😉
Create a logo for your brand
I then decided I wanted a memorable logo. I searched the web for a few images to give me ideas, and tried using aspects from each one I found that I liked to create my own. I approached a graphic designer I know and hired him to help me out with creating a graphic I could use.
Here are the iterations my logo went through: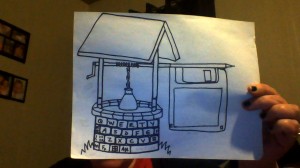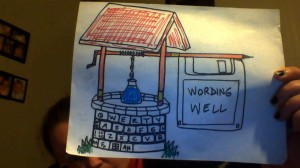 I then decided I didn't like the rounded base so I requested a change, which led to a few more changes:
I then decided I didn't like the grass, and requested the removal of it.
Then I asked for the removal of the extra white space (which you cannot see in the above image) as well as a copy of what it would look like with the disk-sign.
Ultimately, I ended up with this as my final image (which I am also using as my favicon):

I also hired someone from Fiverr to design a logo for Wording Well, and this is what I got:
I then added my tagline to it using a program on my laptop called Paint:

Finally, I asked my original designer, Mr. Singh, for the two following images to be merged into one, for my newsletter form's header:
This is what I ended up with:
Then I added my url to the image (using Paint):
I also hired someone else from Fiverr to make me a logo, just to see what I would get. I got this:
I then requested that the feather replace the "i" and be changed from black to red, and was pleased with the final result:
I like this one much better than the one with the black background! Do you?
Choose a theme for your brand
As I mentioned in my announcement post about Wording Well being born, picking a theme that I liked was practically impossible and time-consuming. 
I settled on this one (for now) because I liked the colours, but I confess I'm considering buying a premium theme. Fortunately, there is a pro version of the one I'm currently using. I want to continue using the basic colours of red, black, and white (with blue on occasion). They are the colours of most traditional pens, and given that I'm a writer/editor/teacher, these colours seem fitting. Don't you agree?
Pay for your blog and brand?
Then there are the cool plugins that are unavailable for free. It seems that many have pro versions. However, the $12 I spent on the SocialFans plugin was money well spent, once I achieved the final result. It felt like it took forever to set up, though, as there was a lot of work involved in doing so. I even had to create a Twitter app! That was hard to do. The instructions that came with the plugin were not the greatest. Fortunately, I had help in setting in up. I have Tim Bonner to thank for that!
Blogging is starting to get a bit costly, with hosting and plugin costs, not to mention the design fees!
As a lover of "free," I can't help but cringe. However, I'm looking at the costs as an investment into my future, and because I've been earning a few bucks freelancing, I'm not overly upset. 😉
Be taken seriously
I wanted to get my own site and build my blog and my brand so the "bigger" bloggers would start taking me more seriously. Being perceived as the professional I am (thus, getting higher-paying freelancing gigs) is tough to do when you have a "free" website. Plus, I figured I had to start listening to the advice of other freelancing pros like Carol Tice, Linda Formichelli, and Sophie Lizard.
However, I don't want to pigeon-hole myself while I brand myself!
I have a few different ideas for my writing career, as I have a few writing projects on the go. Branding myself as a writer, editor, teacher, and blogger has come easily to me, because that is exactly what I am!
Of course, it also helps that I have been consistent across the many profiles I have. You can find the same things about me regardless of where you look:
Launching a Site
I've read a lot of advice from "bigger" bloggers over the past year and all of them say to enlist help from others. They also advise having awesome content to kick-off a new site when you're launching it. I didn't really follow their advice to a T, but I did have great things ready to go. I wanted to have my site ready for February 17.
I also took advantage of the fact that two of my guest posts were published on the 17th and 87th of February, so I did do a bit of planning in this respect. I just made it, too. Talk about making deadlines in the nick of time!
From the last screenshot, you can see that Wording Well experienced a surge of traffic when it was first launched. Of course, once my sitemaps were submitted to Google, I started getting my "referral traffic" back, too.
Some of the posts I've written have been deemed by Google as "awesome." My old site, Lorraine Reguly's Life, got a lot of referral traffic from Google on a daily basis, which served to boost both my PageRank and Alexa rank. (I had attained a PageRank of 2 on my l'il ol' blog!)
I figured that I should be using my previously written posts to my advantage on a site that I actually own, and so moving my blog posts was a no-brainer decision for me to make. Truth be told? This was one of the things that influenced me into getting my own site!
Moving Forward
While putting some of Danny Iny's advice into practice, which includes (1) providing truly awesome content, (2) building your community and (3) being everywhere – through guest posting – all in the hopes of attaining (4) going viral – I have learned that I need to consider my writing career as a business even though I have never considered opening a business of my own before!
But now that I have… here is another image that was created for me. It's definitely more modern!
I have known all along, however, that branding is important, and have worked hard to build my brand as a writer/editor/blogger/teacher who helps others wherever and whenever possible, and I will continue to do so, regardless of where I publish my articles! Or when. 😉
I also put together a presentation on branding your business… complete with a SlideShare presentation!
Your Turn:
Do you have a brand? How hard was it to establish it? What did you do – or not do? Share in the comments, please. Also, I'd like to hear which logo you like the best.