Last Updated on: April 14th, 2019
I'm continuing the F.I.T.S. (Freelancer In The Spotlight) Series on Wording Well, and the "Freelancer In The Spotlight" today is Brian Morris, who is also an author!
Now please welcome Brian Morris to center stage. 😉
Take it away, Brian!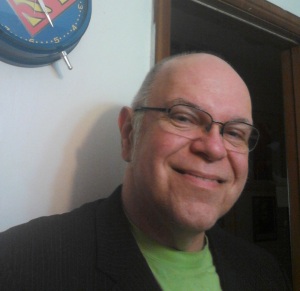 Focus On the Noose
"Depend upon it, sir, when a man knows he is to be hanged in a fortnight," Samuel Johnson once said, "it concentrates his mind wonderfully."
But frequently, we don't get that much warning.
A couple of years ago, I worked for a local utility company.  One day, I was called into a meeting with the regional head of HR who told me what a terrific employee I was, what great knowledge I brought to the job and hoped that I could find another job where I could use 11 years worth of crazy mad office skills.
With the gallows looming (loss of income, loss of house, loss of a reason to put on my trousers every weekday), I knew it was time to go from part-time writing dilettante to full-time freelancing.
I liked the idea of a direct link between my efforts and my rewards and of being my own boss.  The idea of not having to put on trousers or shave ever day was appealing too, but that's another issue.  Also, if I wrote some books, the books would sell online while I slept.  The idea of a passive income stream was VERY appealing.
A couple of years later, I've now got a couple of books out, writing two more, waiting on one to be formatted and published, and working towards publishing another written by a friend.  I also have a Facebook page where I encourage my friends to take up writing seriously and share information.  Of course I do this with my copious amounts of spare time because at the time I'm writing this, I'm also moving into another time zone and trying to rectify everything I've neglected to take care of in the old home.
But the knowledge to become a smarter freelancer didn't merely come in an "Ah-HAH!" moment, complete with an airborne lightbulb over one's head.
So where does one find the up-to-the moment freelance writing and publishing information that even the local library wouldn't have?
My favorite "go-to" online oracles
LinkedIn – think of this as Facebook without the cute cat videos.  The basic service is free and good enough when you're starting out.  Find your professional friends and link to them.  Then join all the relevant groups you can that deal with writing in YOUR specific genre(s).  Comment a lot, make new friends, link to them, expand your circle of friends.  Also, search out groups on marketing, publishing, editing, etc., anything that deals with what you wish to do with your writing/publishing career.
LinkedIn will limit the number of groups you may join, just so you know.  However, you may also leave the ones that looked nice, smelled good, and really weren't relevant to your quest.  You will also find that some frequent posters are there to sell you services, defend the old way of doing things, and generally talk through their hats.  Accept all advice gratefully and with the appropriate amount of salt.
Facebook – it's like LinkedIn, but with more cute cat videos, all of whom you should ignore while you're writing.  However, there are many pages dedicated to genres, promotion, publishing and you may join as many as you see fit so you can promote your work and yourself.  If they like you as a person, the reader might like your book and if they like your book, they might learn to like you as a person.
Seek out other writers and make nice with them.  Heck, make nice with me on my Facebook page and ask a question.  If I know the answer, I'll gladly tell you, just to fool you – uh, show you just how smart I am. 😉
Along with being free, Facebook offers the opportunity for you to create your own community of enthusiastic followers with your own writer/publisher/creator page that's separate from your personal one.  You know, just like the ones you shouldn't be watching if you hope to get that novel done in this decade?
Google + wants to position itself to be a friendlier LinkedIn or a more businesslike Facebook.  But it's still working out the new and could use a few million more users to be really useful.  Your time can be better spent elsewhere.
Google/Bing/Yahoo/Your Fave Search Engine – When someone masters a task, no matter how important or otherwise, someone will post the information elsewhere.  Whether it's to show off or to genuinely be helpful, who cares?  The information is still good (usually) and it's free (there's that word again).
One tip for finding information: stop sweating how to figure out the most perfect keywords for a search argument.  Just ask the question!  Instead of "format e-book Kindle," try "How do I format an e-book for Kindle?"  Pretend you're on Jeopardy and have fun with it!
Twitter allows you to connect with your peers and your idols alike.  A private message could net you a personal reply to your most needed query.  However, the 140-character message format can prove daunting to a proper interrogation of your target genius.
YouTube/Vimeo/the video channel du joir – just like the search engines, but someone created a video to accompany their bragging.  This is especially good if you are a visual learner or at least want more than just words to prove that a procedure works.
Sales Teleconferences – in my early days of data gathering, I took in what I knew was an attempt to sell me something.  I wasn't worried about falling for the spiel because I had a very good mental firewall when it came to pitches, having done advertising work in the past.  I also was more broke than the State of California.
LinkedIn Specialties
I discovered my first sales teleconference via LinkedIn.  The subject was something like, "I Can Show You How To Make Passive Income From Amazon."  Make money while I sleep?  I could spare an hour on Wednesday to learn this awesome secret, said the moth to the flame.
The format that most of these audio infomercials takes is that the first 45 minutes or more are filled with useful knowledge.  Either record it for immediate transcription or limber up your note-taking hand because the facts come fast.  Once the pitch for the problem-solving product begins, you can tune out.  However, keep an ear open because there could be a Q&A where extra information can be culled.
After you sign up for a few of these, you might get on the mailing list where the teleconference gets a limited-time replay.  However, some of the products being offered are often sold with either a better price or more ancillary goodies during the live broadcast so it often pays – assuming you are interested in buying the products, which I have done – to be present during the original broadcast.
Networking – find other authors or keepers of wisdom and reach out to them.  Writing is often a very solitary job, unless you're watching cat videos.  A wee bit of human contact could prove a welcome distraction.  And unless someone is selling a product that does what you want to learn how do to for free, most people are glad to share what they've learned.
Go to book shows.  Attending author signings.  Exchange business cards and see if you can't begin a dialogue with someone who's father down the path and ask how they got there.  Network like your career depended on it because … you know.
So become a detective and a ferocious bulldog of a researcher.  Approach the knowledge with an open mind and a thirst to absorb as much as possible.  After about three months of intense internet study, I knew enough to start  my own freelance writing and publishing career, complete with self-marketing plan.  However, there is always more to learn and even more to teach.
If there's a negative aspect of this, it's that I've become impatient with my fellow writers who make mistakes in publishing, formatting, editing, marketing, whatevering.  The information is out there, often just for the asking.  The only excuse for not knowing the right way to accomplish something is to not look for the information and that's just lazy thinking.
After my first book saw the light of release, I became a man more in control of his career and his life.  Let the corporate masters run roughshod over their employees (as long as it pleases the stockholders).  My former co-workers agreed that I was the lucky one.  At least I'm finally doing something I love that makes money when I don't work it and even more when I do.
Don't wait to be led to the gallows.  Focus on your career and remember that a noose can just as easily become a play swing.  But you've got to learn what to put through the loop.
YOUR TURN:
Do you think all freelancers should write a book?
Do you use LinkedIn and Facebook to help promote your writing?
If you don't have a Facebook page yet, are you going to set one up?
(I have one for Wording Well, and another as my author page.)
Share the name of it in the comment section!
Check out the other freelancers in this series:
Some Life Updates and Info about Freelancing from #freelancewriter Lorraine Reguly
An Interview With "F.I.T.S." Series #freelancewriter Elna Cain
"F.I.T.S." SERIES: Featuring #freelancewriter Candace Simonson
"F.I.T.S." SERIES: Featuring #freelancewriter DD, an Addicted-to-Heroin #Freelancer
"F.I.T.S." SERIES: Featuring #freelancewriter Alicia Rades
"F.I.T.S." SERIES: Featuring #freelancewriter Corinne Kerston
"F.I.T.S." SERIES: Featuring #freelancewriter Ali Luke
"F.I.T.S." SERIES: Featuring #freelancewriter Joe Warnimont
"F.I.T.S." SERIES: Featuring #freelancewriter Janine Ripper
"F.I.T.S." SERIES: Featuring #freelancewriter Harleena Singh
"F.I.T.S." SERIES: Featuring #freelancewriter Crystal Nay
"F.I.T.S." SERIES: Featuring #freelancewriter Christy Birmingham
"F.I.T.S." SERIES: Featuring #freelancewriter Tom Bentley
"F.I.T.S." SERIES: Featuring #freelancewriter William Ballard
"F.I.T.S." SERIES: Featuring #freelancewriter Deevra Norling
Freelancing Tips From Kirsty Stuart #freelancingtips for #freelancers
7 Reasons for the FITS Series on Wording Well (with results!)
If you want to raise your freelancing rates, read How to Ask for a Raise (and Get One!) from your #Freelancing Client.
If you want to know why you should be gathering testimonials you can use on your website, read about The Power of Client Testimonials.
BRIAN K. MORRIS is the "chief set of hands" at Freelance Words.  In addition to being an "award-winning" playwright, he's the author of Bloodshot: The Coldest Warrior, based on the Valiant Comics character, and Santastein, an irreverent holiday/horror/humor book, both available from Amazon with more in the pipeline.  He lives in Indiana with his wife, no children or dogs, and too many comic books.