Last Updated on: March 11th, 2021
So you're a new blogger, huh? Cool.
I bet you have A LOT of questions.
I also bet you're overwhelmed when you read a post that offers you blogging tips.
I mean, there's SO MUCH to absorb, right? And you feel like you'll NEVER learn it all.
That's okay. You're not alone!
Most new bloggers are in the same boat as you.
I know I once was.
That's why I wrote this post. To help you. To teach you. To get you to benefit from MY experiences as a blogger.
Why? Because I'm an expert.
I've contributed to a ton of round-up posts by really famous bloggers. I share my knowledge here, and have also shared my knowledge in of guest posts, too (both for free and for pay).
Helping others is my thing. 😉
WHO I AM… and How I Can Help YOU
First, allow me to introduce myself. My name is Lorraine.
I've been blogging since 2013.
I'm a certified English teacher who taught high school Math and English for three-and-a-half years.
I'm also an author.
And an author assistant.
And an entrepreneur.
At this current time, I have two websites of my own: my author site (Laying It Out There), and my business site (Wording Well). I also have a free website, but I have been moving things from that site to my author site… slowly.
I'm a freelancer, too.
Yes, I'm currently available for hire, but that's not why I'm here…
I'm here to help you. For free. No strings attached. (You can hire me as a mentor if you want to!)
Are You A Guppy Blogger?
I know you probably feel like a guppy blogger in an ocean of sharks. I felt that way once upon a time!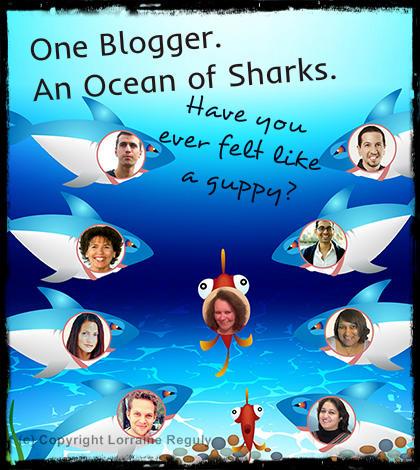 I even wrote a guest post for the "shark" in the lower, right-hand corner of the above picture… (In fact, I've written posts for three of these people!)
In addition to using these 8 Action Tips For Guppy-Bloggers In An Ocean Of Sharks, I want to give you five more things you should know as a newbie blogger.
1. Ask Questions (Even Though You Might Not Get Answers)
When I began blogging back in 2013, I had no idea what I was doing. But I wanted to learn.
I started reading blogs about blogging, to improve my skills as a blogger.
When I saw someone do something, like use Click-to-Tweet links in their blog posts, I wanted to know how I could do that! (See point #3 below for links on how you can do this!)
I wanted to know how others created their images.  
So what did I do? Did I sit idly on the sidelines?
NO!
I asked questions! I wanted to learn. I was hungry for knowledge.
Very few people answered me.
Perhaps they didn't want to take the time to help, maybe they are too busy, perhaps they simply didn't want to share their secrets. Who knows?
I made it my mission to become a better blogger, and to help others.
I also began following SEO blogs, blogs about blogging, and I continued to ask questions while I tried to figure stuff out for myself.
I'll admit, it wasn't easy.
Learning took A LOT of time.
But I kept on asking questions, and so should you!
On a side note… I don't have or use Photoshop. The pre-installed Paint program on my laptop was all I first knew how to use. Now I use Canva and PicMonkey (see point #3 below for links). I also use Pixlr Express, to optimize my images. 
2. Persevere… Even When The Going Gets Rough
I persevered. I didn't let anything deter me from learning.
In fact, whenever I learned how to do something neat, I wrote a post about it. My audience loved me for that. 
I didn't let others and their vast wealth of knowledge keep me from pursuing my dreams or my goals. Even when things got rough, and I thought to myself  I'll never be as good as they are, I kept at it… Learning. Absorbing new knowledge. Figuring things out for myself, then implementing them.
Because of my interest in blogging, I quickly began to be noticed by others.
I left comments. I asked questions. I offered solutions, too.
Now, today, I'm considered an expert!
All because I persevered!
So… my advice to you is this: do NOT give up, even when you feel overwhelmed. Instead, work through your pain and persevere!
3. Realize There is A LOT

to

Blogging

There is a lot to blogging… if you want to be a successful blogger.

These are only some of the things involved in blogging:
running your own website
learning how to install and update plugins
moderating and replying to comments
figuring out how to be noticed by search engines (hint: make sure you submit a sitemap to the search engines! You can use this free sitemap plugin to help you with this.)
learning how to create images for your posts (hint: use Canva or PicMonkey to help you — they are both FREE to use!)
learning how to take and then use screenshots in your posts
learning how to use Click-to-Tweet links in your blog posts (hint: read How to Use "Click-to-Tweet" Links In Your Blog Posts (for FREE))
figuring out who to link to within your posts
determining how to promote your posts on social media (hint: you have to have accounts everywhere!)
learning why networking with other bloggers is important
doing guest posting
providing value to your audience
figuring out how to monetize your site (hint: you can start by using AdSense. Read How To Make Money Blogging by Doing NOTHING but using AdSense)
determining which type of freebie to give away to get people to join your email list
creating content on a regular basis (remember, you can always hire someone to help you do this… such as me!)
There's a lot more to blogging. The list is endless!
But… don't let all of this stop you! Persevere (see point #3) and take it one step at a time (see point #4).
4: Take One Step At A Time
Taking things one step at a time is the only way to become a successful blogger.
Do what you can. Don't worry about what you can't do. Those things will come, in time!
When I began blogging, I knew nothing. That's right, NOTHING.
But I kept at it, learning a little bit each day.
If you have the will, the drive, and the desire to be a good or great blogger, you will be.
Give yourself time and allow yourself to take a step in the right direction each day!
And NEVER stop learning. I didn't. I am still learning!
5. Use 20 Blog Post Must-Haves to Help You
This e-book is free. Written by me, it's available from Wording Well to my subscribers.
It outlines the 20 components each blog post MUST HAVE, to be great.
I wrote it after learning how to become a better blogger.
Trust me; it'll help you if you follow each of the steps! It even includes a printable checklist so that you can keep it near you as you create your content for your blog.
Want it? Good. Grab it here.
Have Your Say!
If you have questions (and I know you do), please ask them in the comments. I'll do my best to help you solve your problems!