Last Updated on: January 26th, 2021
Are you as successful as you want to be?
Are you completely happy with your life?
Do you wish you could be happier or more successful?
Good news – you can!
All you have to do is change your mindset and success will be yours!
How do I know this? I'm living proof.
I used to be a prostitute, a high-school dropout, and a drug addict. But I also went to university for 5 years and became a high school Math and English teacher. Now I am a business owner, a freelance writer and editor, a coach and mentor, and an author!
In fact, the first two articles in this series are chapters from my book, From Nope to Hope.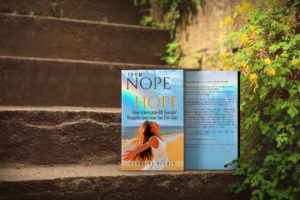 You can learn all about me by reading this poem about my life journey and you can learn all about my book by reading the book release of From Nope to Hope.
You can also dive right in and learn how to change your mindset and become more successful today!
3 Ways to Change Your Mindset
There are many ways you can change your mindset. The best 3 techniques involve:
1: Using positive affirmations 
2: Use Meditation, the Law of Attraction, and Visualization to Be Successful
3: Conquer your fears
Let's look at each of these ways in-depth now. I'll be sharing my personal experiences with each of these ways, too, to prove they work!
Because this is the 3rd post in a 3-part series, I'll simply recap the first two ways, and then get into today's topic of discussing how to conquer your fears.
1: Change Your Mindset by Using Positive Affirmations
Our mindset involves our attitudes and a particular way of thinking. Basically, our mindset is made up of our thoughts and beliefs.
Our brains consist of two parts: the conscious and the subconscious. By changing our subconscious thoughts, we can change our negative conscious thoughts and replace them with positive ones.
One of the ways we can change our mindset is by using positive affirmations.
Affirmations are positive statements that are repeated on a daily basis that alter your current (usually negative) beliefs by sinking into your subconscious. Even though these statements might not initially be true, the constant repetition of them eventually makes them a reality!
To get started with positive affirmations, read How to Use Positive Affirmations to Improve Your Life (the 1st part of this series).
2: Use Meditation, the Law of Attraction, and Visualization to Be Successful
Meditation is a technique that basically helps you to clear your mind. It has many therapeutic benefits and helps you focus.
The Law of Attraction asserts that our thoughts, feelings, and beliefs are the cause of what we attract into our lives. The theory is that if we consciously direct our focus on what we want, we will get more of it.
The visualization technique is used in conjunction with meditation and The Law of Attraction. By practicing this technique, you can make your dreams come true!
To learn how to use meditation, the Law of Attraction, and the Visualization technique to become more successful read Use Meditation, the Law of Attraction, and Visualization to Be More Successful (the 2nd part of this series).
3: Conquer your fears
Omit the "limiting" fears from your life and move towards success.
Our fears limit us, so we need to rid ourselves of them!
What are you afraid of? Failure? Success?
Most of us fear the unknown.
Some fears are built during your childhood, and few are developed over the years as you grow and face new challenges.
I know each and every one of us fears something or someone.
Conquering your fears can be easy, if you know how! Read on to learn how to conquer your fears!
How to conquer your fears (6 steps):
Step 1: IDENTIFY YOUR FEAR and ACKNOWLEDGE IT.
Don't deny it. It's like being an alcoholic… Step 1 is to admit it, and admit what it is.
Step 2: UNDERSTAND IT.
Most fears will cause you to have physical symptoms:
A racing heartbeat
Difficulty breathing
Dizziness
Sweating
Overwhelming anxiety or panic
A need to escape
A feeling of detachment
Faintness
A powerlessness
Step 3: RECOGNIZE THAT IT IS NOT RATIONAL and QUESTION IT.
When you avoid your fear, you limit yourself. It interferes with your normal daily functioning. Maybe you avoid certain places or situations because of your fear.
Step 4: IMAGINE AN OUTCOME YOU WANT once you face your fear.
See yourself as unafraid, calm, and happy.
Step 5: FACE YOUR FEAR, GRADUALLY.
Gradually confront it. Put yourself in a situation where you have no choice but to face it. Repeat this until you are comfortable in that situation.
Step 6: LEARN RELAXATION TECHNIQUES such as breathing deeply and talking to yourself positively and calmly.
Breathing controls your mind. Whenever you face one of your fears, take a deep breath. Breathing controls the flow of blood to your body and mind. Breathing clears your mind and gives you enough energy to tackle your demons.
A real-life example of a fear I developed:
I was in a car crash at the intersection of Arthur Street and Vickers Street. I was headed from Edward to Simpson, traveling east. A person was driving the wrong way on Vickers, which is a one-way street.
They, therefore, had no stop sign because it was a one-way street.
They smashed into the front of the cab I was in.
Afterwards, each time I was in a car traveling in that direction on Arthur Street, I would cringe as we neared that intersection.
I was particularly scared if we were in the right lane.
I was afraid that I was going to be hit again.
I had no control over the driver of the vehicle I was in. Most often it was a taxi.
I know that the odds of the same thing happening are rare, yet my heart beat faster, I had trouble breathing, I felt panicky, and I started sweating.
Eventually, as time passed and I crossed that intersection safely, my fears lessened. I practiced positive self-talk. I told myself to relax, that nothing was going to happen, that the odds were with me not against me, that I would be fine in a few seconds.
I imagined seeing no cars coming my way. I imagined an outcome in which I was not hit. I experienced that outcome each subsequent time I drove down that street (each time I faced my fear).
I still have the memory of being hit, but I can ride down that street without experiencing the physical symptoms I used to!
Changing your Mindset = Becoming More Successful
Success, like paradise, carries different meanings for each of us.
For many, success = money + prestige.
For some, success = freedom.
I wrote about my definition of paradise on Ryan Biddulph's website, Blogging from Paradise. In this article, I mention that I used positive affirmations and the visualization technique to change my mindset and take my dream vacation.
Read 12 Reasons for Why You Need to Take Your Dream Vacation NOW  and see what my definition of paradise is AND how I was able to manifest a reality out of a dream!
Then start using these techniques in your own life to change YOUR mindset and become successful!
Summary
Regardless of what your current beliefs are, YOU have the ability to change them.
You can become more positive and more successful once you have improved your mindset.
You can use techniques such as positive affirmations, meditation, the Law of Attraction, and visualization to help you.
You can conquer any fears you have using the steps outlined here.
Once your mindset has been changed, you will become more successful in not only your business, but in other areas of your life too!
Onward and upward, my friends!
P. S. Don't forget to read the other articles in this series. They are awesome! (And free.) 😉